Dance is an investment that last a lifetime.

How many times have you sat on the sidelines, wishing you could ask that special someone to dance? Everyone has their own reasons for wanting to learn to dance. Some wish to have more social confidence, others are looking for a challenging form of exercise, and many couples want a new, fun activity that they can do together. Whatever your reason, don't let another missed opportunity go by.
We offer group classes and private ballroom dance lessons for beginning and intermediate levels, for children and adults in Indianapolis, Carmel, Westfield and Fishers area, Indiana. We specialize in helping people prepare for their wedding and other special occasions, for those wanting to feel comfortable on the dance floor.

All styles: foxtrot, waltz, tango, swing, rumba, cha cha, salsa and more.

For pricing and availability please contact us at 317-774-6000 or send us email using our Contact form . We are looking forward to hearing from you. Please let us know what your needs and questions are, we will be more than happy to help.


News feed....

10/24/14



*** DANCE PARTIES***

at Ballare Ballroom Studio in Carmel.
address: 111 Medical Dr., Carmel IN
Group class 7:30-8:30pm
Open Dance 8:30-10:30pm

check www.BallareBallroom.com for current schedule.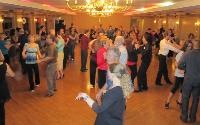 04/12/15

Schedule for 2015 season:

June 12th - Ballare Open House
July 10th - Ballroom Bash Showcase
10/15/14

Ballroom Bash Dance, Fri, July 10th, 2015, 7:30-11pm at Murat. My Dance Factor Club will have a few tables for our students for this event. Early registration is recommended. Please contact Olga if you are interested in purchasing the tickets ($25 per person, Formal attire).